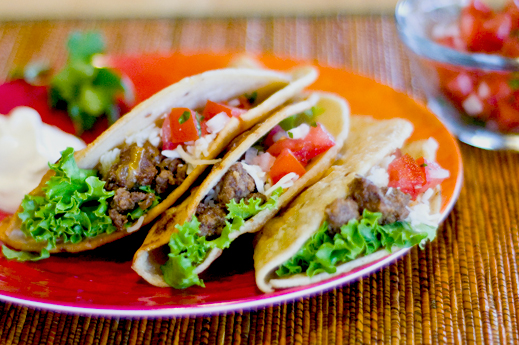 At least 2 times a month I try to do a "make your own" meal night with the family. I think it is so important that the boys are involed with meals and learn to make good food choices. This weekend we did Tacos and it was a lot of fun. The boys ejoyed stuffing there own with things they love and the best part is the mess you make while eating them! Here is how I made it lean and clean.
Meat mixture - I used 1 lb of browned extra lean ground beef, reduced salt taco seasoning, finely diced carrots and peppers, and just before serving I added 1 pack of crumbled firm tofu.
Toppings - skim milk cheese, non fat sour cream, shredded iceberg lettuce, diced tomatoes ( I used a no salt added can of toms), salsa, black beans.
Tacos - I sound whole grain no salt tacos at the grocery store, I used the hard shell and the soft shell.
I put all the toppings in bowls on the table, served the boys their taco with the meat already in it, and they went to town! Give it a try and see how much fun you can have!